---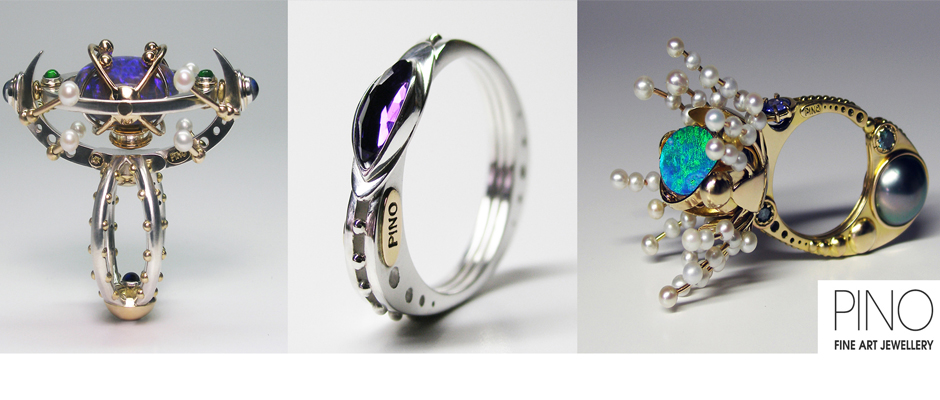 The Power of Rings. What makes a ring powerful? Is it the interplay of shifting light, shadow, and depth created by the unique combination of metallic, matched colors, or is it the vintage surface that recalls memories and projects unmistakable power? I always have been inspired by the ancient art of jewelry making, especially the history of rings.
My artistic interests have been drawn to the personal relationship people have with the jewelry they wear. Sometimes, I add meticulous mechanisms to give the stone set the freedom to follow the owner's movements, reflecting the wearer in many small, intricate ways. Each of my designs represents a different thematic system—a mirror of multiple metaphors. Whether exploring systems in motion, the metamorphosis of insects, or the pace of urban life, my passion awakens first in the transformation of the raw material.
Since 1995, I have been dedicated exclusively to jewelry design, particularly one-of-a-kind jewelry. The combination of colors is one of my sources of inspiration. In my designs, I juxtapose cold silver to warm gold, calm green emeralds to vivid red rubies to the hue of the charm and freshness of whitewater pearls. Each design portrays a slice of life, a perspective of the rhythm and poetry of the world in which we all live. From conception to completion, I am searching for originality, innovation, and integrity of expression and elegance. I explore various forms of expression to bear witness to the historical grandeur of jewelry making and at the same time animate the design with contemporary tones. During the creative process, I never forget that someone will be wearing the ring. Therefore, rings first need to be very comfortable and belong to the hand. My rings come alive only when they find their owners.
To me, making jewelry involves a search for innovation that forces me to confront new challenges. At the beginning of my career, I experimented with different techniques, such as wiring methods, lost wax casting, and also a piece by piece construction. Currently, I try to create my rings by focusing mainly on the emotions or feelings that the design conveys to its owner rather than production techniques. I devote all of my time and energy to the creative process. The development of my techniques and skills resulted from many years of hardworking ethic, discipline, and perseverance as I worked alone in my shop. Since obtaining the Professional Jewellers' Diploma from the MEQ Jewellery School in St-Henri, Montreal, in 1995, I have been working full-time on my jewelry bench. Over the years, I have also studied at the École de Joaillerie de Montréal, where I earned a certificate in lapidary. From 2001 to 2002, I continued my research in gemology and mineralogy in Albuquerque, New Mexico. In addition, I received an advanced training certificate in faceted gem cutting through the CMAQ. During the course of my career, I had the opportunity to participate in several exhibitions, biennales, trade shows, and a few internships in North America, Europe, and Asia. This has enriched my artistic network, stimulated exchanges within various communities, and helped me develop my expertise.
In 2008, I was awarded a grant in research and creation from the Conseil des arts et des Lettres du Québec in order to study the origin of jewelry within the First Nations of North America and create a collection melding traditional craftsmanship in jewelry with modern aesthetics and techniques. This research allowed me to deepen my artistic skills by studying these ancestral techniques with artists from the Naskapi and Innu-Montagnais communities in Quebec as well as the Navajo Nation in Arizona. This project had a huge impact on my creative process.
Furthermore, to deepen my knowledge of the history of engagement rings, I went to the Egyptian Museum in Cairo, which contains the largest collection of ancient Egyptian Jewelry in the world. This collection includes one of the first engagement rings, which was owned by Queen Aah-Hotep, the mother of Ahmose. Seeing the Pharaohs' jewelry and meeting with well-known specialists allowed me to better understand the ancestral techniques and customs as well as to learn more about the symbolic importance and origin of the engagement ring. This research and creation project had a real impact on my artistic career, and it is from this rich experience that I designed the Vena Amoris Collection. This project was made possible in 2009, thanks to the Conseil des arts et des letters du Quebec.
In 2011, I pursued a master's degree in the study of platinum at Holts Academy Jewellery in London, England. In addition, I received intensive individual training from the world-renowned expert on platinum, Mr. Jurgen J. Maerz, director of the Jewelry Industry Consulting LLC, and former director of Technical Education for Platinum Guild International USA. This unique training allowed me to feed my need to conduct artistic research and enriched my technical knowledge. Soon, I will present an exclusive collection of sculptural rings made with the rare and stunning metal, platinum. With this collection, I intend to incorporate the exquisite properties and poetry evoked by this luxurious and sensual metal in my designs. This project is made possible through the support of the Arts Council of Canada.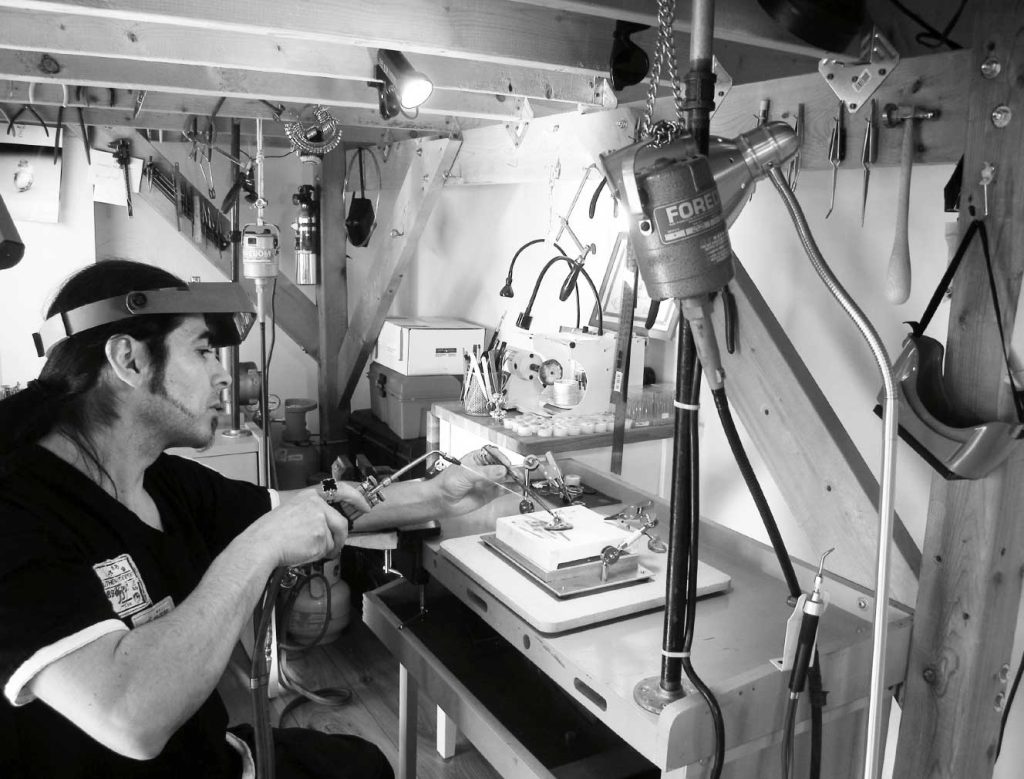 The transformation of raw materials is limited only by our imaginations.

– Claudio Pino