8th Annual National Juried Exhibition
Fine Jewellery and Metalwork,
Zilberschmuck Gallery
910 Kingston Road, Toronto, Canada.
Upcoming Exhibit: September 10th, 2012 to January 11, 2013,
Toronto Pearson International Airport, Terminal 1, International Departures Lounge.
Exhibition: April 12th – May 25th, 2012.
Opening: April 12th, 7pm – 10pm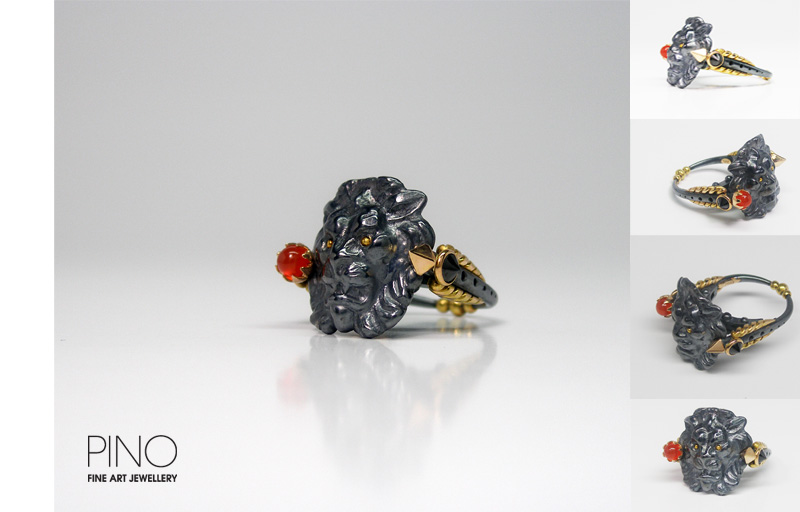 Superstition | Strength, courage, power, wisdom, ferocity, dignity, justice are symbolic meanings associated with the magnificent lion. Throughout history, lions' faces have often been added to architecture, such as in the design of door knobs and knockers in order to protect the inhabitants of a residence against the entrance of negative energy. In ancient Egypt, this living creature was a metaphor for the ferocious heat of the sun. The Mystical Ring present a lion's face juxtaposed with a vivid, fire-colored carnelian and a dark, black onyx. The somberness of the oxidized metallic parts enhances the understanding of the time that has past and the history that has unfolded. It also emphasizes the sensual contrast between dark and light, hard and soft, tough and tender. This protective lion's ring brings together the symbol of fire and heat with the carnelian, as well as the suggestion of self-control and strength with the black onyx.
http://www.zilberschmuck.com/index.php?route=common/home